Jennifer Lawrence recalls her Miley Cyrus puking incident at Oscars after-party
JUST ADDED: 5 Seconds of Summer will be rocking the stage at this year's iHeartRadio Music Festival Village in Las Vegas! The band sat down with Ryan Seacrest to break the news. Click here to buy your tickets now, before they sell out!
Listen to Miley Cyrus on iHeartRadio
Surprisingly, Jennifer Lawrence, 23, had never gone out after an awards show, until this year's Oscars. After being nominated for her third golden statue, the talented actress decided to throw caution to the wind and have a night out on the town.
But things didn't quite turn out as expected. With her best friend Laura by her side, Lawrence had a bit too much fun. "I took her [to the show], and she was a terrible influence on me," the star recounted during her appearance on "Late Night With Seth Myers" on Wednesday (May 21). "We like left, and she was like, 'meet me at the bar!' So, I like snuck out and I was like, 'oh my god, I can't do this.'"
She continued, "She was like, 'you can do whatever you want.' And I was like, 'I can?!' Then we ran into Brad Pitt, and she was like, 'get Brad Pitt over here.' I was like, 'I can't do that.' She was like, 'yes. You can!!!' Then I just went, 'HEY, Brad Pitt!' Then, he came over."
"He smelled like sandalwood," Lawrence laughed. "It was unbelievable."
"I was like, 'Okay, I'm going out for the first time,' " she told host Seth Myers. "I'm [usually] just so sick of people by that point. But this time, I was like, 'I'm going out'….and I puked."
"There's this big fancy party, this Guy Oseary and Madonna party – if you get invited, you're like, you know, super-important," Lawrence detailed. "And I puked, on his porch."
"I was in such bad condition, and I look behind me while I'm puking, and Miley Cyrus is there like, 'Get it together.' "
Check out the hilarious interview: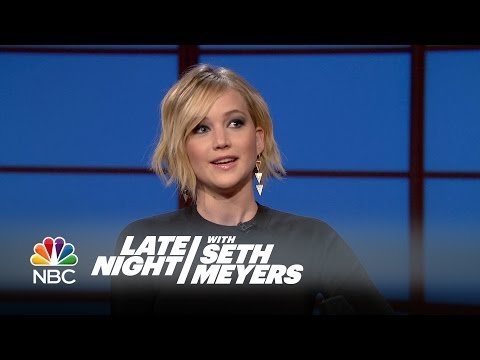 Photo Credit Getty Images